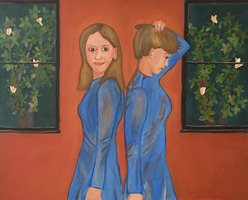 Photo by Vonda Klimaszewski, 2014
Painting "Selves Portait" by Susan Paulson Clark, 2004
My art tells stories of new worlds and experiences with vibrant, often saturated, color. Layers affect a sense of depth ... the plot thickens. Interesting shapes, be they floating or exacting, drive visible narratives.
As a free-spirited creative with an analytical streak, I'm fascinated by the interplay of emotion and logic. In my writing career, I covered human interest - but also business and technology. Likewise, my art shines with emotive color on a foundation of judicious composition. Feelings align with thought, structure compliments expressive beauty.
Let me celebrate the heart, elevate the mind, and create pieces that retell themselves with new twists in every subsequent viewing.
Continental Gin Open Studios - Deep Ellum, Dallas Texas
VAST Visual Arts Society of Texas 125-mile Exhibition- Denton Texas
1808 Artists Open Studios - Dallas Texas
Cedars Studio Art Tour - Dallas, Texas
North Lake College Gallery - Irving, Texas
Smart Art, Inc. Corporate Art Consultants - Deerfield Beach, Florida
Texas Visual Arts Association (TVAA) Works o
n Paper
Bath House Cultural Center Outdoor Exhibition - Dallas, Texas
2012 – 2016 Studied under artist Bonny Leibowitz, Richardson, Texas
2013 Advanced Studies in Painting, The Morean Arts Center, St. Petersburg, Florida 2016 Oil and Acrylic Technique, ArtCenter Manatee, Bradenton, Florida